$

25.00
Gumby Gumby Neem Lemon Myrtle Body Lotion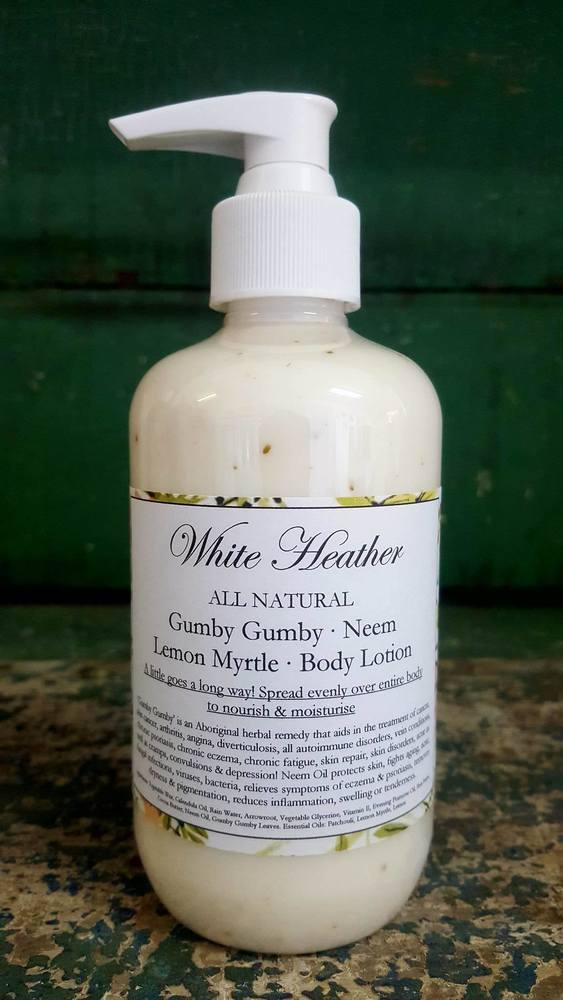 'Gumby Gumby' is an Aboriginal herbal remedy that aids in the treatment of cancer, skin cancer, arthritis, angina, diverticulosis, all autoimmune disorders, vein conditions, chronic psoriasis, chronic eczema, chronic fatigue, skin repair, skin disorders, acne as well as cramps, convulsions & depression! Neem Oil protects skin, fights aging, acne, fungal infections, viruses, bacteria, relieves symptoms of eczema & psoriasis, removes dryness & pigmentation, reduces inflammation, swelling or tenderness. Apart from being a wonderful mood lifter, Lemon Myrtle is the most antiseptic, antiviral and anti-fungal of the Australian essential oils (more powerful than tea tree) and is helpful with colds, flus, chest congestion, irritable digestive disorders, gas in the digestive tract and skin conditions.
Ingredient
Apricot Oil, Calendula Oil, Vegetable Wax, Arrowroot, Vegetable Glycerine, Vitamin E, Evening Primrose Oil, Neem Oil, Gumby Gumby Leaves. Essential Oils: Patchouli, Lemon Myrtle
Direction
A little goes a long way! Spread evenly over entire body to nourish & moisturise.