$

7.00
Coconut Milk Soap with Organic Oil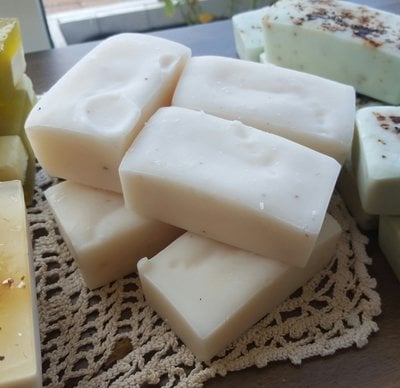 Due to the presence of saturated fats, coconut oil retains the moisture content of the skin, as the fats eliminate moisture loss through the pores. It contains high levels of Vitamin E properties and is rich in many proteins- essential for healthy skin growth, repair of wear & tear on the skin, keeping skin smooth and protecting against cracking. Made with chamomile to provide an abundant source of anti-oxidants and Coconut Milk for its Selenium & Magnesium content and anti-aging properties.
Ingredients: Organic Coconut Oil, Caustic Soda (Lye), Chamomile Herb, Palm Oil (sustainably sourced), Castor Oil, Macadamia Oil, Coconut Milk.
Directions: Form a rich lather & massage over entire body. Rinse thoroughly. We need some added TLC - Please don't leave me in water or I won't last as long! Somewhere I will drain dry after each use is just perfect!