$

17.00
Tea Tree & Lemon Myrtle Goats Milk Body Wash with Neem Oil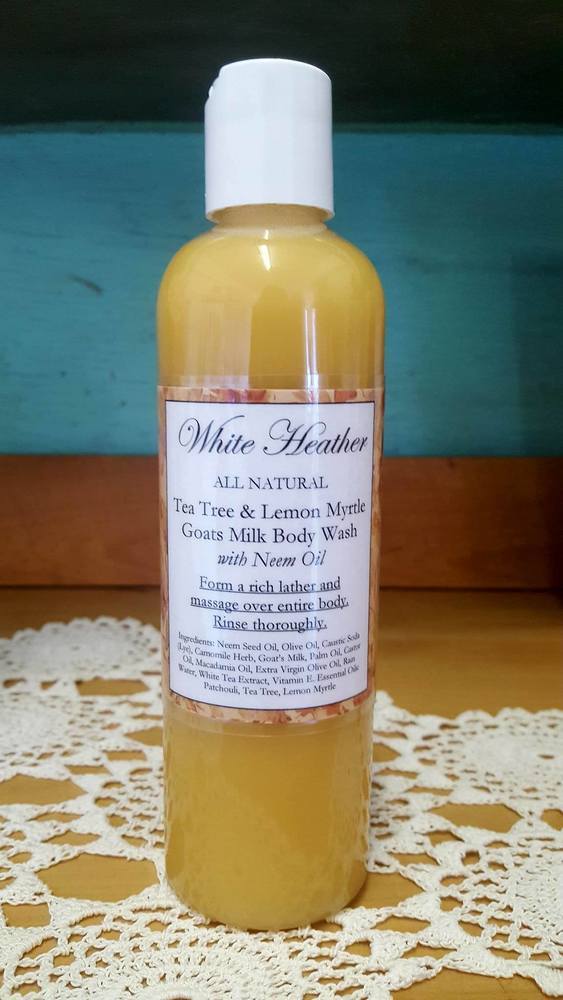 Often referred to as the 'Plant with a promise' NEEM OIL protects skin, fights aging, acne, fungal infections, viruses, bacteria, relieves symptoms of eczema & psoriasis, removes dryness & pigmentation, reduces inflammation, swelling or tenderness.
Goats Milk contains essential fatty acids as well as natural, soothing, anti-inflammatory compounds that are perfect for use on irritated, sensitive or dry skin. Goat's milk delays signs of skin again due to its high content of alpha-hydroxy acids such as lactic acid. These acids break down dead skin cell bonds, removing dead skin cells from the skin's surface and leaving behind new cells that appear smoother and more youthful. Goat's milk is packed full of essential nutrients and vitamins like vitamin D, C, B1, B6, B12, and E, that feed the skin and are absorbed into the body. The cream present in goat's milk is a moisturizer that soothes dry and damaged skin and provides an anti-inflammatory effect. Made with 'Tea Tree' & 'Lemon Myrtle as they are the most anti-bacterial, anti-fungal & anti-septic of the essential oils.
Ingredients: Neem Oil, Extra Virgin Olive Oil, Caustic Soda (Lye), Chamomile Herb, Palm Oil (sustainably sourced), Castor Oil, Macadamia Oil, Goat's Milk. Essential Oils: Patchouli, Lemon Myrtle & Tea Tree
Directions: Form a rich lather and massage over entire body. Rinse thoroughly.